Sports Silly, NFL Nonsense...the usual!
--No I don't have bed bugs, but thanks for thinking that from the title. Actually it's more a shout-out to the 88 year-old President/Dictator of a country whose second largest city, Bulwayo, was forced to enact a mandatory toilet flush at 7:30 PM last Saturday by all its residents as a way of cleaning out the city's clogged and bacteria laden public plumbing (http://worldnews.nbcnews.com/_news/2012/09/24/14072453-city-in-zimbabwe-asks-residents-to-flush-toilets-at-the-same-time?lite) Guess that's what you get in a country that issues currency so worthless it makes Germany's Weimar Republic chuckle...Nice job Bobby!
Some actual Zimbabwe currency...which I believe will get you a 3-piece Arthur Treacher's Fish Basket and a Mr. Pibb...two brands they just got over there.
--Next up word out of Indiana is that Erin Moran, who played little sister Joanie on Happy Days, was arrested at a Holiday Inn for disturbing the peace. Even more shocking when asked for her address Moran told police she is homeless and no longer loves Chachi. The latter assertion proving to be superfluous to the investigation (http://www.cinemablend.com/pop/Happy-Days-Erin-Moran-Reportedly-Homeless-47539.html) Frankly I find this quite disturbing. I mean Bag I could see living in a Trailer Park, the Malachi Brothers on Skid Row...Hell I coulda swore Sticks tried to hit me up for spare change to buy a 40 on the streets of Newark last week, but the little girl from Daktari (her first role) that's sad.
Erin Moran today...only kidding...like this girl would ever be homeless...
CFB
--Sorry, but yesterday's 70-63 West Virginia-Baylor ridiculousness is not football to me. These defenses made the NBA All-Star Game look like something outta the Dead Ball Era as combined the teams threw for over 1200 yds., WV QB Geno Smith finished with a passer rating of 248.0, two receivers went over the 300 yd. mark and things coulda been worse but for 3 missed FGs. Heck I had a harder time getting around those Hyphen defenders on the old Mattel Hand-Held Football Game when it was set on EASY. I swear one D-Lineman for the Bears spent the entire game just spinning in circles like he was playing on an electronic football board. But on the bright side if you had Geno Smith in a CFB Fantasy League he put up a comfortable 67 not including bonus points. So no matter what ESPN tells me this is not an Instant Classic in my book!
Now this is a Classic!
--Another game that shattered the 100 point mark yesterday was Miami (Ohio)-Akron. The latter coached by the long-lost Terry Bowden
who based on this picture maybe hasn't been so lost if you're one who frequents the Golden Corral All-You-Can-Buffets around Central Ohio. If you're wondering how a coach who went 47-17-1 at Auburn could not get a NCAA Head Coaching job for over 10 years before finally landing at "FZS" Division North Alabama check out this interesting expose on how Bowden crossed one of the biggest football program Boosters in the country and paid the price (http://sports.espn.go.com/ncf/news/story?id=2285976) So far Tubby Terry is 1-3 in his first season with the Zips a team whose inexplicable Kangaroo logo indicates they probably won't be winning many "football" games unless it's the kind where guys in white Lab Coats come out of the end zone to indicate a score...
Good Luck there TB!
--And finally the Uniform Fiasco of the Week goes to these torturous togs trotted out last night by Nebraska...
I mean what's with the big letter and little number? Will we be getting an Algebra lesson on Exponents? Is there a Periodic Table somewhere missing its Nitrogen (N) square? And though it's hard to see this abomination also features the Ivy League-style stripes on the shoulder which always makes me expect to see folks in Raccoon Coats and Straw Hats, waving tiny "Go State" pennants in the crowd while flappers dance a Charleston to some guy playing "Freddy the Freshman, the Freshest Kid in Town" on the ukulele. For the love of God can we cut the contemporary, chic crap already!
NFL
--First off our regrets for not issuing an RIP last week to NFL Films Chief Steve Sabol. Steve and his father Ed brought us some of the best NFL documentary work well before the ubiquitousness of the all-Sports Networks made highlights commonplace. They also introduced us to the late, great voice of John (Frozen Tundra) Facenda whose deep tones and stripped down style could send me hiding under the covers as a kid with lines like, "In Super Bowl 7 the Miami Dolphins had but one mission...seek out Larry Brown...and punish him!" Or grab our attention immediately with a simple, well-paced line like, "He was born Earl Christian Campbell...in the small town of Tyler, Texas..." Of course we also had to take the good with the bad such as their trying to make every drive sound like Sherman marching on Savannah with the "Song of the Volga Boatmen" beating time in the background as Harry Kalas intones "Joe Montana's right arm, like a scalpel, cut deeper and deeper incisions into the soft underbelly of the Houston defense..." while we watched the same 3 yard pass to Brent Jones shown from 8 different angles. No matter the Sabols were pioneers who shaped not only the world of highlights, but how live games are televised, analyzed and packaged for the fans. He was a giant of the industry and will be missed.
Nothin' to do with nothin', but I figured "Hey why not!"...
--Watching Brandon Weeden struggle against the mighty Ravens defense on Thursday night made us think of Booger from Revenge of the Nerds decrying his lack of a date for the Lambda Lambda Lambda frat party by stating, "hey, I've been combing the High Schools all week..." Generally it's good to be an old fish in a young pond, but eventually it will catch up to you. Like most rookie QBs Weeden is having his ups and downs, but unlike any other rookie QBs Weeden spent 5 years in the Yankees farm system and is already 29 years old. He's certainly no Tom Brady or Peyton Manning who's going to take the league by storm almost from his first start so there is the danger that his window of success, if it ever comes, will be short. Not to mention that defense-less games like yesterday's WV-Baylor and Texas-Okie State tilts don't bode well for the caliber of stop units Weeden, Ryan Tannehill and RG3 were facing in the Big 12. The latter two have the time to figure it all out, but as for the Cleveland signal caller, well, he may be "combing the High Schools" for a coaching job if his timetable isn't in overdrive.
--Is it just me or do these new Bills uniforms with the white collar
make them look like a team of 45 Jim Ottos.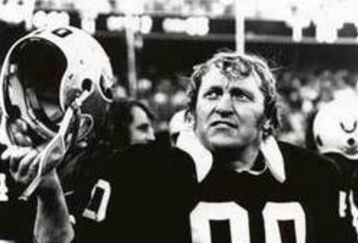 HOF Center Jim Otto back when men were men and the cheerleaders were nervous...
--Congrats to Ken Whisenhunt and the Arizona Cardinals, who I may or may not have made fun of in our preseason rankings (probably did), on their 3-0 start. Today they get Miami at home so a 4-0 start is definitely possible. Like so many pundits we focused too much on this club's QB woes heading into the year and overlooked an excellent young defense filled with speed and led by pass rusher extraordinaire Paris Lenon. Lenon is the last active player to have competed in the ill-conceived XFL, Vince McMahon's 100-yard "Springtime for Hitler" tax dodge drawn up during a peak period for the WWE, where he performed as the more genteel "He Not So Fond Of Me" for the Orlando Rage. For those who have tried to forget the XFL prided itself on being a more violent game, but it's rule tweaks to this end included eliminating the "in the grasp" rule, which the NFL had taken off the books years before, and not allowing Fair Catches something the Canadian Football League had been doing since its birth without drawing much attention. One season and a Tommy Maddox MVP later this joke mercifully folded...ah, Memphis Maniax we hardly knew ye...
--Is the Year of the TE Part II over before it started? After last year's stunning performances Fantasy Footballers couldn't grab TEs early enough this year, but that may have been a mistake. Both border line 1st rounders, Jimmy Graham and Rob Gronkowski, are averaging under 60 yds. per game. Graham has 3 TDs, but two of those were "John Holmes Specials" where he scored from 12 inches away after the Saints were stymied at the goal line and last week he was held to a mere 16 yards receiving. Gronk's situation, however, may be more concerning as he's being called on to block more than Paul Lynde on The Hollywood Squares. It's way early to write these guys off, but those who waited for the Dennis Pittas and Kyle Rudolphs of the world may be the winners when all's said and done and regression's had its way.
Porn star and sometime Gronk girlfriend Bibi Jones in what is one of the few pics in which, let's say, her mouth isn't full...starting to see some connections here...
--Lastly our final note on the Jets and Tim Tebow. As a space filler back in 1983 our local sports section printed a list of the mottos for every MLB team. Most made reference to "this is our year" or "aiming for October" except for the Cincinnati Reds who were coming off a 61 win season. Their motto was "Just For The Fun Of It!"...as in we got no shot at winning, but we're still gonna play "just for the fun of it". Not exactly Mad Men material, but at least they stayed true to their word by playing a lot of youngsters, easing out vets like Johnny Bench and Dan Driessen, and setting the stage for a dramatic turnaround in 1985 that ultimately led to their 1990 Championship team. So when the Jets brought in Tim Tebow I didn't think they were going to the Super Bowl or would even make the playoffs, but at least, I assumed, they would get jiggy with the whole two QB idea. They haven't. Unless you consider splitting Tebow out as WR 10 times a game to be radical. Last week the Jets had 2nd and 5 or less 8 times in regulation and produced 7 runs for 4 yards and one incomplete pass thrown by Mark Sanchez. If you're gonna look as bad as the Jets did last week, and they had no business winning that game, then at least take a page from the '83 Reds book and have fun with it. Bringing in Tebow and letting him throw on 2nd & short is the kinda thing that could make the Jets bearable to watch and possibly reap big-play rewards. Hey, Tebow's passer rating last year was 72.9, Sanchez's career number is 73.6...what have you got to lose. This Jets team is going absolutely nowhere, Revis is done for the year, Rexy's on his way out so what the Hell let's mix it up...Just For The Fun Of It!
--Fred's Pick (1-0) is Arizona -5.5 with a lean toward Atlanta -7 as well...I've done all I can do here...and looking back on it that makes me sad...but check back Tuesday for a new feature we're gonna call Mr. Fantasy Loser...that's called a tease...and so is this...