More sports sarcasm only loosely tied together by inebriation...
--Back in the days when I could run, slide and dive without eviscerating my epiglottis (I've gotten most of my anatomy lessons from Bugs Bunny) I played on so many softball teams I often knew only one or two guys on a given squad. So when I picked up the phone one night to hear, "Hi this is Misty," my reflexive response was "I didn't know you 976# girls ever called back." When I found out it was a coach's daughter advising me of a rainout I felt terrible not just for the girl, but her father who I'm sure had to re-visit that baby name fight of 17 years before with his wife.
So when we received a FaceBook message last week from Lingerie Footballer Kate Osman we thought better to ignore it not for the least of which reason was the chance it could really be a 52 year-old effeminate plumber from Toledo with a thing for quirky, sarcastic guys with leftover from the 80s haircuts behind the bodacious picture.
Turns out, however, that Ms. Osman had only nice things to say about a pic we posted of her making her that rarest of finds...beauty and sense of humor all in one package. The LFL skipped the Fall, but will be back in April so here's wishing the best to Kate and her Philadelphia Passion teammates...and since I couldn't get in any of their pants with Chloroform and a fabric cutter I must really mean it.
Philly Passion RB/CB Kate Osman...so sweet I'm gonna leave it to you to make your own joke about going both ways...
--Word out of Tokyo is that a former NY Yankee right-hander is peddling a new Kirstie Alley-style weight loss reality show entitled Here Comes Hideki Irabu-bu. I wouldn't bring a bag of oranges to the pitch meeting, guy...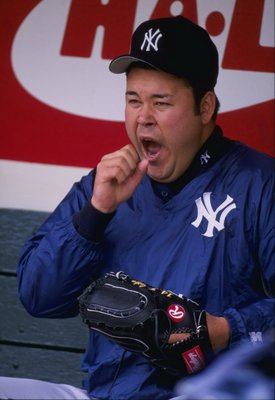 Mr. Irabu practicing for his backup career on the Professional Eating...or perhaps Gay Porn Circuit...
CFB
--Has anyone else noticed that seemingly overnight the ACC has turned into the worst major conference thrust upon the American public since Yalta. The current division leaders are 1-0 Maryland who has lost to Connecticut and slipped by William & Mary 7-6, and 3-0 Miami (FL) who has been outscored 103-44 in 3 non-conference games one of which was against Bethune-Cookman. The only other team with an unblemished conference record is the Duke Blue Devils who haven't been football relevant since an un-visored Steve Spurrier coached there and I was hoping to find Coleco Vision and a Swatch Watch under the Christmas Tree.
Now when I think of old, I think of anyone who uses the word "credenza", but at Ole Miss in the early 'naughts they had a different definition so when HC David Cutcliffe went 4-7 and turned 50 years old they fired him, despite his previosly posting 4 consecutive winning years, 3 bowls and a Cotton Bowl win, saying he was out of touch. That the Rebels went 10-25 under the younger, super-intense Ed Orgeron over the next 3 years while Cutcliffe has Duke one win away from going to only their 3rd bowl in 35 seasons this year is vindication for the older and wiser everywhere. So good luck to the Dukies the rest of the way...and, who knows, maybe I should make a run at that Kate Osman after all...
--It's often times easier to get to the top than stay there. Just ask William Henry Harrison, Dontrelle Willis or Right Said Fred...and, hell, they were even too sexy for their cat. That's why one of our favorite CFB betting systems, or should I say favorite winning systems, is playing against schools that debut in the Top 25. So far this year 14 teams have debuted in the AP Top 25 after the preseason poll and have gone a combined 3-8 ATS the next week. Two of those teams, Arizona & Nebraska, played FCS squads the next week, won handily then lost ATS the following week pushing the record to 3-10 in their next lined game. The other team was Rutgers who was off following their poll ascension then covered yesterday vs. Connecticut. All in all betting against these teams in their next lined game would have you at 10-4, +5.6 units this year which is a lot better than listening to Right Said Fred's followup single...uh...yeah we don't know either...
--Only kidding it was "Don't Talk Just Kiss" and we didn't even have to look up...but I couldn't tell you my cell # on a bet.
Obviously the glass in hand indicates the one girl's drunk...why else would a woman allow herself to be photographed next to that....
--And in one last betting note Notre Dame destroyed Miami (FL) 41-3 last night sending Granny Clampett...er...Lou Holtz into apoplectic fits of ecstasy. Earlier this year ND sank Navy 50-10 then failed to cover their next game vs. Purdue. The hype machine is cranked up for the Fighting Irish so time to go contrarian. Next up is Stanford in South Bend where I'll be taking the points and hoping they don't where those dimpled Titleist helmets from last night.
Sometimes I think it should be Lou with the jug...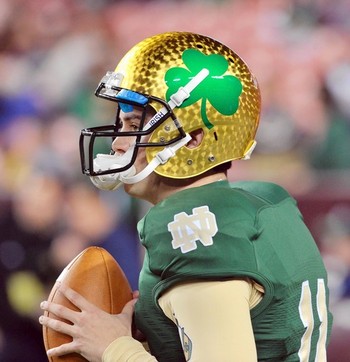 Or maybe the equipment manager just got jiggy with a bottle of Jameson's and a Ball-Peen Hammer
NFL
--Sometimes it's hard to see the forest for the trees. Back in High School Marlboro cigarettes came out with Marlboro Bucks or Points or some such thing that could be redeemed for fabulous prizes or a lung bioposy whichever was necessary first. I myself, a non-smoker, even got taken in by the frenzy at one point smoking up to two lighters a day...packs having lost all meaning. The problem was we failed to look at the Prize Brochure which, in Marlboro's macho image, featured items for the rugged outdoorsman like backpacks, tents and hiking boots. How I was supposed to blow up my two-man, inflatable raft with lungs that could make Loretta Lynn's father cringe was something I'd overlooked completely.
On Sunday Night the Philadelphia Eagles had the ball first and goal, down by one with just over two minutes remaining and the Giants with 2 timeouts. The team of Cris Collingsworth and Al Michaels, who I generally like, then launched into a long-winded dialogue on how the Eagles could best run down the clock. What they overlooked was the worst case scenario NY would be facing was having the ball back with 1:40 left and no timeouts, an eternity in the NFL for a quality, veteran QB like Eli Manning. The question they should have been addressing is what was the best plan for Philly to get the ball in the End Zone time be damned.
I'm not sure if we used this girl before...they're all starting to look like they'e fourteen to me and that not a good thing in so many ways...
The problem is announcers today like to use the basketball end-game terminology of it being a "x-possesion game", but they don't want to parse that soundbite down to it's deeper underpinnings. There is a tremendous difference between a 1-3 point lead and a 4-8 point lead. They're both technically one possession games, but overcoming or tieing the latter is much more difficult.
The extra 30 yards the Giants would have had to go to get 6 on their last drive would've been much more difficult than overcoming a lack of timeouts and a few lost seconds when only just getting to the 30 (for a 47 yd. or less FG) was the goal. In fact Michaels/Collingsworth would have been helpful had they pointed out the Eagles had not stopped NY from reaching FG range even once in the second half and had only kept the Giants off the scoreboard when Manning had thrown an interception in the compressed Red Zone.
I could go on and on (and I have), but suffice it to say do not listen to the talking heads when they speak of a one possession game and leave it at that. 4-8 points is a one possession game, 1-3 points is a half possession game. Something to ponder like I do over why I ever wanted a two-man raft in the first place everytime I wheeze my way up a flight of stairs.
--The list of privileged sons who could not follow in their father's successful footsteps is a long one. The problem usually stems from the son's having never had to apply himself due to getting carried along by his father's influence until he's thrust into a position of responsibility which, I believe, is a sub-stratum of The Peter Principle that defined why Peter Frampton could never followup Frampton Comes Alive and, in turn, is related to sudden onset male pattern baldness...but I may have lost the thread there somewhere.
I believe "The Guy Code" prohibits me from joking about this, Andre Agassi or Leif Garrett...
So that I missed the coming collapse of the Oakland Raiders this preseason is a shame on me situation. The Raiders reversal of fortunes was imminently predictable considering they'd been taken over by Al Davis' ne'er-do-well son Mark. You see any multi-millionaire who walks into his barber and says, "make me look like the lead singer from The Knack," is a strange bird to begin with...
The Knack lead singer Doug Fieger (left) who sadly passed away in 2010 from infectious complications related to a botched vasectomy. Apparently nurses mistook his garbled cries of, "My Sc-rotum, My Sc-rotum" for a painkiller induced flashback and failed to administer the life saving antibiotics.
...but there were even bigger warning signs in this Marky's past (almost weaseled a Night Court joke outta that...).
Actress Markie Post...best known for one of the most wasted racks on television...
According to sources close to the family Papa Al readily ridiculed his son in front of office employees and coaches and told him to stay away from the team's facilities unless invited. That Mark, once he took full control, turned around and fired the solid Hue Jackson and most anyone else from his Dad's regime was hardly unexpected. That a man who looks like Moe Howard on a bad hair day would not be able to put together his own competent crew should have been the same.
Raiders Nation is one of the most rabid and loyal fan bases in the NFL. One that has put up with more ineptitude and losing in recent years than was probably necessary. Sadly it seems like more of the same until Mark Davis stops meddling and turns the day-to-day operations over to quality football men or sells out the shell of what's left to pay for a subscription to The Hair Club for Men. Gertrude Stein once described the City of Oakland by saying, "there's no there, there..." and if Mark Davis has his way there may be no fans there in the not too distant future.
--Fred's Pick (1-1) is AWOP, which is not the acronym I put in my attendance book when an Italian student is absent, but means Absent Without Pick, so I'm going to toss out my first of the year.
Last year I commented that in the early going Kansas State had played a schedule softer than the placebo control group of an Erectile Dysfunction drug trial. The Wildcats got taxiderm-ed the next week by Oklahoma 55-13 and I believe I see a somewhat similiar situation shaping up in the NFL.
Now if Kansas State's sked was the placebo control group the Chargers early season run is more like John Bobbitt. Their wins have come against Oakland, Tennessee and Kansas City while they were crushed by Atlanta, never a Road Warrior squad, 27-3 in SD. Today they travel to 0-4 New Orleans and are only getting 3 points. The Saints righted the ship a bit last week in nearly beating Green Bay at Lambeau. Now they're back home, the offense has picked it up a bit, their turnovers have regressed from 3 to 2 to 1 to 0 last week and the defense played a bit better, holding Cedric Benson without a double-digit rush and getting pressure on Aaron Rodgers. The Chargers have a mess in the Ryan Matthews benching situation and Phillip Rivers, as my fantasy teams' 1-3 record will attest, is not back to his pre-2011 form. It's easy to say you can't see the Saints at 0-5, but there's more to it than that including I can't see this Charger team at 4-1. Play is the Saints -3 and, of course, it's for recreational purposes only...wink, wink, nudge, nudge, say no more...
...and another pair of reasons to like the Saints...
I've officially sunk to my "nader" by which I mean I'm about to rant at the TV about percieved injustices and get nothing accomplished in the end...Enjoy the games!