Fantasy Football, Pop Culture and loads of sarcasm!
--First up RIP to Phyllis Diller (aged 95) who once said, "Thank God for sports or poor kids would never know what a multi-millionaire looks like"...and for Christ sakes will my Abe Vigoda pick ever payoff in the office Dead Pool?!?...according to IMDB Abe, at 91, "still acts, can digest solid foods and in his spare time hunts for terrorists. Last week TMZ caught him trying to enlist at Old Navy."
--Bears LB Brian Urlacher announced his seperation from girlfriend Jenny McCarthy (Love In The Wild) saying, "it's time to focus on Panthers and Jaguars and forget about Cougars..."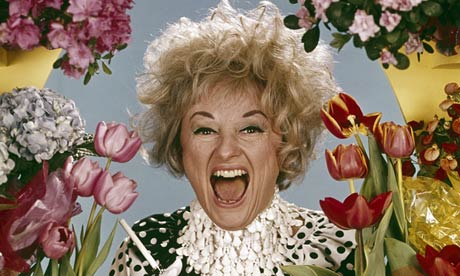 Phyllis Diller or for our younger fans think an ugly Jenny McCarthy...only funny!
--And thanks to reader StaceyG (a real live woman) who pointed out updates on all your favorite walking corpses from Abe Vigoda to Pete Seeger to Professor Irwin Corey (he's at Snickerdoodles in Akron, Ohio Sept. 9-11, living his dream) can be found at the Dead People Server www.dpsinfo.com a site which finally settled my long-running Ladybird Johnson (dead 2007) debate...
Brian Urlacher palming former Rock of Love Season 1 contestant Erin...better known as the biggest breasted woman to ever not win a Reality Dating show.
--For those of you who are Twittered-up you can follow us by clicking the tab on the right at which point you'll have access to our Hashtag Hijinx like...#ThinnestSportsBooks: "Great Asians of the NHL" and "An Oy Vey from the Octagon: The Magnificent Meshuga of MMA"...sadly this is how I spend my summers off...
--On Monday it was claimed that former Red Sox, current Met Kelly Shoppach, not Adrian Gonzalez, was behind the "Bobby V Must Go" text message scandal in Beantown thereby garnering the biggest headlines for a backup Catcher since Steve Gendeson shot the dry cleaner Pincus back in the '90s...Poor Little Pincus! Red Sox management has since rallied around the beleagured manager saying, "it would be unfair to fire Mr. Valentine at this juncture, what with him having invented the game and all..." Apparently Kool-Aid sales are still strong in the Greater Boston area.
--In one final MLB note congrats to Felix Hernandez on his perfect game vs. Tampa Bay though I must say the fact that Phillip Humber (5-5, 5.76 ERA, demoted to bullpen) threw a no-no this year kinda devalues the whole thing...sorta like the Baha Men ("Who Let The Dogs Out") owning a Grammy...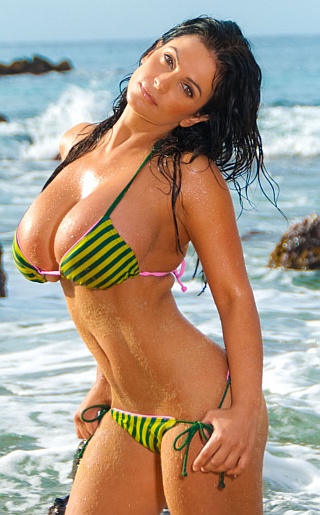 Listen I've nearly caused three accidents trying to ogle the women Realtors on FOR SALE signs so my bar is kinda low...but this woman is smoking!!
FANTASY 4-PACK
--Since he's come into the league Colts WR Austin Collie has been nailed on the noggin more often than the $100 question on Who Wants To Be A Millionaire? On Sunday he was knocked from the Pittsburgh game due to another blow to the head. We wish him well and don't want to demean the seriousness of this situation, but in light of the NFL's increasingly stringent policies regarding concussions such matters are Fantasy relevent.
The immediate beneficiary of this situation is veteran Reggie Wayne. With Collie out the remaining Indy receiving corp consists of ex-Ram Donnie Avery, 6th round rookie LaVon Brazil, Coby "Nobody's Cleaner Than Grandma" Fleener and some warm body named Dominique Jones leaving Wayne a star surrounded by the worst quartet since David Robinson took Navy to the Sweet 16.
Currently Wayne is ranked WR31-34, but should Collie continue to be out or limited consider these facts: 1. Wayne was WR29 last year despite Painter/Orlovsky under center; 2. Andrew Luck, so far, looks competent/confident; 3. Luck wasn't drafted #1 overall to handoff; 4. The run game led by Donald Brown, though possibly improved, is still average at best; 5. The next best receiver is rookie TE Fleener; 6. The sked is easy with only a matchup with Darrel Revis (Week 6) looking dangerous; 7. The defense is mediocre enough that they'll be playing a decent amount of catchup.
With so many question marks on the board before him: Mike Wallace (holdout), Greg Jennings (concussion), Miles Austin (hammy), Dez Bryant (nuts), Vincent Jackson (scheme), Stevie Johnson (groin), Pierre Garcon (?) it could be nice to have a clear cut #1 with a proven track record and improved QB situation as your WR3 or Flex player so like Steve Smith (CAR) last season don't sell this 30-something veteran short in the latter middle rounds.
I'm copyrighting this idea for Fantasy Drafts so don't try to steal it...now if I could just find some attractive women that'll listen to me...isn't that always the problem...
--Jonathan Swift, Voltaire, Mark Twain, George Carlin...me!?! When it comes to the dexterity to doubt I'm every bit equal to these luminaries albeit on a much smaller stage...kinda like the "Sadaharu Oh of Cynicism". But when it comes to drafting Darren McFadden or Chris Johnson with your first round pick this season I'm delivering an emphatic YES!!...wait, I think I hurt myself there...alright, I'm back and I still agree that if you don't have a Top 5 pick in your draft and are denied Foster/Rice/McCoy, but still want a RB you should draft either of those two with gusto...whatever that is?
Currently Johnson on the back of two solid preseason efforts is shaking the apathy tag he picked up last year and moving up the board with some places having as high as #4 overall. So that leaves McFadden, a super talented player who's brittle as Cloris Leachman's hip. He's been slipping slightly on some experts' boards, so why have I, of all pessimists, come around to his side?
First I've never had Run DMC on my fantasy team, but with his HUGE play ability and #1 overall potential I've always viewed him like I do the guy who's one shoe is mysteriously lying in the middle of the highway...I don't know how you do that, but I wanna party that guy! This year with Michael Bush gone and no committee type back added it looks like it's McFadden's show in Oakland so if you have a little contrarian in you it's time to eschew the "he's too fragile" naysayers and swing for the fences.
Another reason to give McFadden a shot is that despite his great upside he lies at the end of those Tier 1 RBs without baggage. Behind him is a crew without that topside potential, but in some cases as many or more questions than the McF: Matt Forte (yeast infection...AKA Bush problems), MJD (holdout), Marshawn Lynch (off field troubes), Trent Richardson/Adrian Peterson/Jamaal Charles (knees), DeMarco Murray (O-Line woes), Ryan Matthews (collarbone), Steven Jackson (age). In other words if you are, as they say in the investment game, risk-averse then best to pass altogether on a RB at the middle/end of Round 1 and go Rodgers/Brady/Brees/C. Johnson. But with WR deep and so many committee backfields shaping up we think the reward could outweigh the risk on DMC...so GO FOR IT...oh crap, I definitely pulled something there...
Lingerie Footballer of the Week Kate Osman...I mean it's not like she founded the Ottoman Empire or anything, but an impressive 'baller nonetheless!
--More WR nonsense: It's well known that Peyton Manning's more addicted to long, solitary film study than Bob (Hogan's Heroes) Crane or in other words he's a cerebral QB who favors receivers who are the same way- good route runners, attuned to his adjustments, knowledgable of defensive weaknesses. In Denver that guy is Eric Decker more so than Demaryius Thomas. While Thomas has used his 1st Round physical dominance to get by Decker, as a 3rd round pick out of Minnesota, has relied more on guile. Last year he managed 44 receptions (12 more than Thomas) and 8 TDs in the second worst pass offense in the NFL. With Manning replacing Tebow expect those #s to skyrocket especially early when Peyton will still be working out arm strength issues that will hamper the deep routes of Thomas, but favor the underneath stuff Decker does so well. Football Guys website calls him "Welker-Lite" and at WR21-25 currently he's a definite target guy with no current injury or off-field issues...In the range of late WR1, early WR2 candidates there are plenty of guys with issues from Greg Jennings to Miles Austin to Mike Wallace to regression candidates like Steve Smith/Jordy Nelson/Wes Welker, but one guy with seemingly no baggage and seemingly that is being overlooked is Percy Harvin. Last year Percival finished #8 overall, he's seen his touches in this offense go from 75 to 89 to 138 last year, he figures to be the early focus with AP slowly returning from ACL surgery and last year he averaged 12 PPG with Christian Ponder including 5 efforts of 15+ in only 10 games together. He's been all over draft boards from WR4 to WR20. If I could get him in the fourth round of a 12-teamer I'd be happy as the caddies at "Employee Pool Time" in Caddyshack. Good luck...Why did the Seahawks sign Terrell Owens? Does he owe them money too? Actually even at his advanced age the incredibly fit T.O. might be worth a flier, but with the announcement of rookie QB Russell Wilson starting preseason Game 3 for Seattle the picture is muddy. If Matt Flynn had stepped up and claimed this job we'd be more enthusiastic, but in this situation we'd only grab Owens if all the younger, upside options are gone..and finally nobody likes to get fooled. That K-Tel Records offer of the greatest hits of the 70s sounds great until you get it and realize they've deleted the word "shit" out of the Steve Miller Band's "Jet Airliner" and Warren Zevon's "Lawyers, Guns and Money" and you just toss the cassette and case out the car window, but then remember you had a roach hidden in there and...alright, I digress, but suffice it to say many a Fantasy FBer felt fooled last year when they drafted DeSean Jackson as a WR8 or better only to see him stumble through a WR27 season despite missing just 1 game. This year D-Jax is being prognosticated at WR28 and coming off the board around the same time as Peyton Hillis, Shonn Greene and Fred Davis. Quite a silent fall for a player with this much talent in an Andy Reid offense. But "silent" may be the operative word- no holdout, no off-field escapades, no nagging injuries. In 2009 Jackson was WR4, in 2010 he was WR14 in 14 games. If Vick (bruised ribs) is healthy no reason he can't match the latter and for your #3 WR drafted in the 6th or 7th round that's, as Steve Miller might say, "some funky shit goin' down in the city"!
You may wanna cancel your credit cards gals...T.O.'s in town...
--And finally with many Cowboy skill players sliding down draft boards due to receiver injuries and offensive line woes we want to remind everyone about 2010 when Dallas was banged up and scored, I believe, only 1 TD all preseason, but still managed to put together a strong fantasy season once the real games began. Looking back Romo/Kitna finished at QB7 (combined), Miles Austin was WR12 and Jason Witten came in at TE1.
This year however the pundits expect everything to be reversed. Romo has fallen as low as QB12, their most healthy receiver Dez Bryant is WR22, Jason Witten is at TE10 while RB DeMarco Murray has climbed up to as high as RB6 in some rankings.
Remember though that ex-QB Jason Garrett is still running this offense and he has proven to be one of the most pass happy coordinators around with the 'Boys ranking Top 10 in pass yards every year of his tenure going back to 2007. At the same time they've never ranked better than 15th in rush attempts and have been 21st or lower in three of five years.
I understand the offensive line is a real problem, but that could hurt Murray more than it does Romo. As for a QB injury Kyle Orton's in town and as a handcuff he should allow for a performance as good, if not better, than Romo/Kitna in 2010. The injuries to Austin and Witten are more problematic, but these things have a way of clearing themselves up by Week 1 so bargains could be had. Remember also that with Austin out last year Laurent Robinson became a stud so Garrett can make due when necessary.
We're not sold on the Cowboy offense this year, but as a draft moves along you have to adjust when players you targeted are taken. Totally ignoring Romo, Bryant, Witten and Austin could be a mistake. The negative news has them all sliding and that's where value is to be found. So monitor this situation closely and you could get the jump on your more dismissive opponents.
Be back with Week 1 CFB picks shortly...and look out for a ramped up Florida State, a school where the Admissions Department stamped my application: TOO UGLY...although the fact they had to have a stamp for it made me feel a little better.