So the revelation about Barry Bonds' shrunken testicles has shocked many in the sports world. Though I, personally, don't see the big deal...I mean the smaller the potatoes the bigger the steak looks. Right?

    Still the attention the Bonds' trial has drawn points up an interesting fact about our views as fans. That is that no matter how much money and adulation we heap on our athletic heroes there's nothing we love to do so much as hate.

   And  this despite the fact that Bonds is not only retired, but has been erased from both the history of MLB and the S.F. Giants like the labor movement in Maine or the word "niggardly" from a 21st century textbook.

    But no team seems to acquire more players capable of bringing out the vitriol among their fan base than the New York Mets. In the last two decades the Mets have hung their hopes and raised their ticket prices on the abilities of a bigger collection of past their prime D-listers than the cast of Skating With The Stars. So what better way to celebrate Opening Day for a nearly certain to be under-achieving Met team than with a  "Baker's Top Ten" (that's a thing, right?...well screw it I'm making it a thing) of the most overpaid, under-performing, dysfunctional, distasteful and vile players to don the royal blue and orange...Stay angry my friends!

11. Roberto Alomar ('02-'03)- Unless it's between cast members on Flavor of Love spitting on someone is never a way to endear yourself to the viewing public. Still, in his prime, Robbie was talented enough to engage in just such an incident with umpire John Hirschbeck yet still win over the hearts of fans in both Baltimore and Cleveland. Alas, by the time he reached the Metsy's much of the Gold Glove-ty goodness and base hitting beneficence had worn off the rose. From '01 to '02 he lost 70 points of BA, 80 points of OBP and 160 points of SLG as he entered the gloaming of his HOF career. On a personal note he was once engaged to the well-endowed tennis star Mary Pierce the subject of perhaps the funniest line ever uttered on Sportscenter. Commenting on a highlight showing Pierce from a rack-enhancing side view Kenny Mayne said, "we pick up the action with Mary Pierce down a set though from this angle it would be hard to tell." Pierce and another woman would later sue Alomar for allegedly  infecting them with AIDS so maybe John Hirschbeck got off easy all things considered.

10. Scott Schoenweis ('07-'08)- The two things I remember most about the addition of superstation TBS and Atlanta Braves games to our cable package in the '80s is the unabashed homer-ism of the announcers and the fact that Paul Assenmacher seemed to be perpetually warming up in the bullpen. Schoenweis was the Mets answer to Assenmacher forever getting loose for that lefthanded pinch-hitter that was always on the horizon. See lefty relievers are to MLB what Nicolas Cage is to movies. In other words throw a couple Moonstrucks early in your career and you'll keep getting chances even if all the rest is a cacophony of Wicker Mans and bases loaded walks. For $3.6 mil New York got a first year return of a 5.03 ERA and 1.53 WHIP before letting him walk after a second mediocre campaign. Not to worry even at 37 he's still plugging away tossing 24 innings for Arizona in '09 and 13 for Boston last year.

9. Ellis Valentine ('81-'82)- This is kinda unfair. According to Wikipedia Valentine is a very charitable guy not to mention the fact he was on his way to becoming his generation's Vladimir Guerrero until a Roy Thomas fastball shattered his cheekbone in 1980. Of course that's just when the Mutts swooped in taking Ellis and his .207 average off the Expos hands midway through 1981 at the nominal cost of killer closer Jeff Reardon. He showed up wearing a specially designed protective batting helmet that was somewhere between that 1970s periodontal headgear and the Hannibal Lecter mask. Between that and Pete Falcone being the team Ace suffice it to say it was not a glory era for Mets fans. On the bright side though Valentine did sport one of the biggest arms this side of Big Poppa Pump in RF and once appeared with Steve Garvey on an episode of Fantasy Island where they train Gary Burghoff for the Majors...seriously. No word on whether Ellis mimicked Herve Villechaize as LaGuardia departing aircraft flew over Shea, but it's fun to imagine.

8. Randy Jones ('81-'82)- Had the art of sabermetrics been more in the mainstream it could've saved the Mets from this debacle in the early '80s. We now know that pitchers have very little control over BABIP (Batting Average on Balls In Play) thus putting the ability to get strikeouts and avoid walks at a premium. So when Jones won the Cy Young in 1976 with a paltry 2.7 K/9 it was quite obvious he was benefiting from a luckily depressed BABIP. In fact his regression back to the mean was so fierce that he would never post a winning record again in 6 more seasons  including 1-8 and 7-10 records in New York. The 315 innings and 24 complete games in '76 also sapped his arm strength so by the end he ranked up there with a post-shoulder surgery Dave LaPoint and current Jamie Moyer on the list of non-knuckleball Major Leaguers I'd give myself a chance at making contact off. His comp at Baseball Reference is Eppa Rixey who I believe was a second Lieutenant at the Battle of Bull Run in addition to hurling for the old Washington Senators.

7. Mo Vaughn ('02-'03)- The "Flounder" of MLB, only he managed to make fat, drunk and stupid payoff to the tune of $17.1 million a year with NY in 2002. Then proceeded to record the lowest OPS since his rookie year before getting injured 96 plate appearances into 2003 and never playing again. Career really began to jump the proverbial shark after falling down the dugout steps chasing a foul ball for Anaheim in 1999. The subsequent layoff caused him to gain weight at a frightening pace. Yet he turned up in the Mitchell Report as a suspected user of HGH though it's unclear if that meant Human "Girth" Hormones or not. Also famous for dangling an elbow more padded than Stan "The Lariat" Hansen's over the plate which ultimately led to a restriction on batter body armor a few years back.

We're gonna take a blow and come back with #'s 1-6 tomorrow until then here's a little somethin'-somethin' to tide you over till...good God...Mike Pelfrey tosses the opener tomorrow.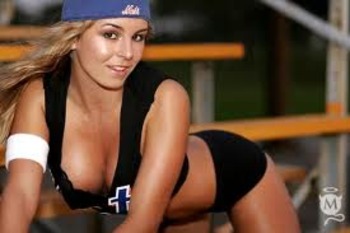 To tired for a wisecrack here, but based on the pose I'm going to assume it would've involved the terminology "Backdoor Slider"...you can take it from there.


Mo Vaughn crowding his favorite type of plate at Carnegie Deli.


At least Lady Gaga thought the 2010 Mets were #1.