MLB sarcasm w/Pop Culture snarkiness, Sports humor at its most sophmoric!
    Due to increased page traffic over the last several weeks we have been picked up by the FanVsFan Network. In terms of full disclosure we should admit that the spike in page views was not driven by our snarky sarcasm, witty repartee or slightly obtuse take on the human condition, but rather German men clicking in to see a pic we posted of mammothly mammaried, Hamburg hottie Jordan Carver who is currently the biggest thing to come out of the Reich since Falco blitzkrieged MTV with his paean to pastry "Rock Me I'm A Danish"...wait, that was the title, right...anyway here's some quick observations on Sports and sundry other forms of entertainment so enjoy!
Duetschland Dazzler and Dewey Decimal Devotee (who knew?) Jordan Carver...
College Football: First up Sexy Sideline Strumpet and Tom-Peepee Erin Andrews has apparently not renewed her lease at ESPN for the 2012 CFB season. So let's all visit her this year at her new residence at FOX Sports-I'll bring the drill...In other CFB news the powers that be in that cesspool of greed have announced the BCS Championship Game will be replaced by a 4 team playoff system. So as 4 more teams (UMass, So. Alabama, UT-San Antonio & UT-San Marcos) push the total FBS (1-A) schools near the 130 mark thereby creating even more wildly disparate strength of skeds let the battle over #4 vs, #5 (6,7,8...) begin!
Erin Andrews...what you thought those sixteen second sound bites with Nick Saban on the way to halftime landed her a 7-figure deal at FOX?
Pseudo-Sport: On July 4th Joey Chestnut won his unprecedented 6th straight Nathan's Hot Dog Eating Championship which made me wonder-is marijuana considered a Performance Enhancing Drug (PED) on the Professional Eating Circuit?...Nearly shit myself when I heard short term sensation Jeremy Lin of the Knicks had been offered $29M to sign with the Rockets. Is that a case of Lin-Continence?... And if you're craving football the CFL regular season kicked off this past weekend to give you that 110 yard gridiron fix you've been needing. Though it's hard to take seriously a professional league that for most of its existence had two teams named the Roughriders (Saskatchewan and Ottawa). Assuming one franchise came first who owned the other one, Raymond Babbitt-"Yeah definitely has to be Roughriders, gotta name the team Roughriders, definitely Roughriders". Me, I just like to watch until the first Rouge is scored http://en.wikipedia.org/wiki/Single_(football), but that's just me...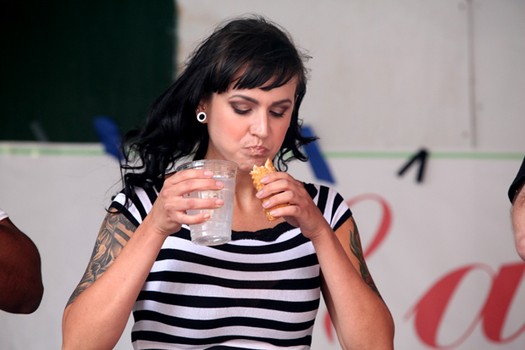 Maria Edible: a model who also competes on the Professional Eating Circuit where she is routinely photographed shoveling hot dogs into her mouth...or as I call her, Marketing Genius!
Pop Culture: Went to see Magic Mike last night. I actually thought it was a biopic of the Jew-Fro, harmonica guy from the J. Geils Band who did the bass voice on "Love Stinks". Turns out that was Magic Dick. Still it wasn't so bad since I used to be a Chippendale Dancer myself. I mean now I'm more of a Chip-A-Hoy Dancer, but things get away from us over time...RIP to Don Grandy who played Robbie on the classic sitcom My Three Sons. Distraught over lack of job offers police say he committed suicide by throwing a noose over his neck, tapping his foot 72 times on the chair and falling to his demise...Congrats to lard loving Celebrity Chef Paula Deen for dropping 30 pounds and lowering her cholesterol to 320. Considering Crisco has a reading of 310 it appears she might still have a ways to go...and finally enough already with Rocker Bob Seger ranting on Twitter about memorabilia stolen during a party thrown by his youngest daughter (he has two, ages 14 and, um, 36). I'm sure you Feel Like A Number, guy, but it's time to just Turn The Page.
J. Geils Band harmonica-ist Magic Dick during his Freeze Frame/Centerfold prime...and just a heads up from experience, Google Image his name at your own risk.
MLB: Boston starter Aaron Cook's strikeout-less streak was snapped last week by Seattle's Chone Figgins at 12.2 innings dating back to last season. More addicted to wood than the heroine in Fifty Shades Of Grey after 4 starts this year his K/9 stands at 0.79 making seeing a Cook K an occurrence on par with, say, spotting a bald Native American. Sadly for those who like to partake in the occasional Caribbean Investment Cook is not scheduled to start against the lumber-laden Yankees this weekend...But at least Cook throws strikes unlike Royals starter Jonathan Sanchez who is acquainted with the strike zone like I am with the annual Victoria Secret Pool Party-I know it exists, I want to be there, but I not really doing anything to make that happen. At present Sanchez has walked 40 batters in 46 innings or 7.8 per nine IP, a figure that makes "Nuke" Laloosh look like Cliff Lee. With prospect Danny Duffy on the shelf till 2013 the current Royals staff of Bruce Chen, Luke Hochevar, Luis Mendoza, Everett Teaford and Sanchez is so weak that despite the fact the club could still be in contact of the #5 Wild Card spot through the end of July they should definitely be sellers at the trade deadline because with this crew as a post-motorcycle accident Bob Dylan once put it, "You Ain't-a Goin' Nowhere"...Odd Stat of June: During the month one pair of teammates combined for 34.2 innings of scoreless relief-Adams/Feliz? No. Downs/Frieri? No. Romo/Casilla? No. Camp/Marmol? Only kidding. Answer: Tom Wilhelmsen and Charlie Furbush (who by his surname suggests his parents weren't Brazilian). By the way they pitch for Seattle and it didn't help as the Mariners went 11-16 during the month...
When I Googled Charlie Furbush this appeared...still doesn't make up for Magic Dick...
Even in a long haul timing is important. I can still remember one whirlwind courtship that began with me, of all cynics, giving a girl one of those statues of a tow-headed child with his arms stretched wide over the saying, "I Love You THIS Much" after only the second date. Six months later it was re-gifted to me with the arms broken off. In other words it's good not to shoot your load too early (though that was a completely seperate issue in the relationship) and spread out your triumphs if you expect long-term success. The two biggest NL Division leading surprises of April/May were the Dodgers and Nationals, but as we move toward the Al-Star Break these clubs seem to be moving in opposite directions. Since May 30 the Nats have gone 19-11 and increased their NL East lead by 4 games while L.A. has gone 15-19 and given back 4 games even dropping out of first as recently as this past weekend. In the parity that is the National League almost every roster is made up of a couple of stars, a group of solid starters and assorted role players. The former group is expected to produce consistent success, the middle group average performance and the latter moments of production mixed with mediocrity. In the case of Washington the production has been spread nicely. Star players Stephen Strasburg, Jordan Zimmerman, Gio Gonzalez and Bryce Harper have all delivered the goods while pluggers Adam LaRoche, Danny Espinosa, Steve Lombardozzi and Rick Ankiel have provided varying degrees of steadiness. The key, however, has been Jesus Flores, Roger Bernadina, Ian Desmond and the relief trio of Clippard/Stammen/Burnett performing well overall or in spurts while expected producers Ryan Zimmerman, Michael Morse, Wilson Ramos and Drew Storen have been laid up or ineffective. Storen is due back shortly after the break and though Ramos is lost for the year Zimmerman and Morse are finally healthy and have raised their OPS over 100 points each in the last two weeks as Washington not only extended their division lead but took over the best record in the NL. The Dodgers, on the other hand, spent the last two weeks of June smoking a cigarette and trying to stay outta the wet spot. Over 12 games from June 19 to 30 they went 2-10 and averaged 1.2 runs per game while breaking a franchise record for scoreless innings set in 1962 before rules lowered the mound so that it no longer resembled a place of worship constructed by a Pre-Columbian Indian tribe. Problem is the Dodgers all went off at once. Stars Matt Kemp and Andre Ethier were otherwordly, as could be expected, from the start, but at the same time the Ellises, Mark & A.J., Jerry Hairston, Juan Rivera, Dee Gordon and Tony Gwynn, Jr. were all playing well over their heads and Chris Capuano/Aaron Harang were pitching like it was 2005. Now that Kemp/Ethier are on the DL and the pitching has dropped back a tick with Ted Lilly also laid up the Dodge-ballers could use some magic from the aforementioned group of roster fillers, but like David Copperfield's hold on Claudia Schiffer finally their sorcery is all used up. The Dodgers can't get back those extra runs they pounded folks with early and trying to plug holes with the aging likes of Bobby Abreu, Adam Kennedy and Matt Treanor hasn't done the trick. The futility of their NL West brethren has the Dodgers back in first, but for our money the Nats are the squad here to stay and the Dodgers will be the one scramblin' for the #5 slot come September. Now if Washington could just figure out what they're going to do about that Strasburg 160 IP limit...
Apparently this is Sarah from Hooters, a restaurant that I'm assuming does zero Take-Out business...
Thanks for your toleration and we'll be back after the All-Star Game though some might question why...