NFL, MLB, Girls, Jokes...isn't that enough for you people...
Sorry for the delay in this post, but the opening week of school interfered with our preparations. For the uninitiated the opening day of school on the Elementary level is known as Parents' Papparazzi Day since as Jim Gaffigan once put, "Parents today have more pictures of their kids then times my father even looked at me..." On the High School level it's just two wasted days of handing out textbooks and noticing who's growing up nicely, but that's enough of that kinda stupidity...so let's get on to this kind...
Miscelleneous
--RIP to Randy Lee Tenley who died in costume while "trying to incite a Bigfoot sighting" in Montana (http://www.cnn.com/2012/08/28/us/montana-big-foot-accident/index.html). In a related note production of the long-awaited sequel I've been shooting in my spare time, Harry And The Hendersons: It's Not Over Yet-i, has been put on indefinite hiatus.
I know...Boobs! Who expected that here?
--Additionally the Hitler Clothing Store (http://www.39online.com/newsfix/kiah-hitlerinspired-clothing-store-opens-in-india-20120907,0,773742.story) opened 3 weeks ago in India has decided to change it's name after protests from groups too numerous to mention. Conversely Mussolini Time Management Consultants of Turin, Italy will retain it's monicker because let's face facts the guy could make a train run on time. Also in a related story the Ho Chi Minh Escort Service in Saigon has decided to simply shorten it's name to "Ho's Hos"...and suddenly I'm looking differently at that one Eastern European guy working behind the counter of this local fast food Mexican joint:
CFB
--First off I have two words for Lou Holtz...Assisted Living! Somewhere there's gotta be a shower chair with his name on it. So can we please get this senile old bastard off TV. With Notre Dame looking improved (though the QB play is shaky at best) this year it's only gonna get uglier. And I wish it were all in act, but sadly he makes Lee Corso look like Stephen Hawking...So ESPN help me out. I'll even take Jesse Palmer, Pam Ward...Hell Clint Eastwood's empty chair would be an upgrade. But for the love of God please LOSE LOU!
Model Sydney James striking the sultry "Al Bundy on the Couch" pose...
---And now this...The first two weeks of the much anticipated Head Coaching debut of Charlie Weis at Kansas has seen him nearly need a different kinda bypass on successive Saturdays. First his Jayhawks trailed the mighty South Dakota State Jackrabbits (5-6 last year) 7-0 with 10 seconds left in the 1st quarter and led only 10-7 at the half. The final came up 31-17 but SDS was within 7 midway thru the 4th, put up over 400 yds. in offense and was only done in by 5 turnovers.
Then yesterday at home against an awful Rice team that was lit up by UCLA for 600 yds. and 3 runs of 70+ in Week 1 KU led the whole way, but couldn't shaky the pesky Owls and lost on a FG with 4 seconds left. Not exactly the way Chubby Chuck wanted to ease into a difficult Big 12 schedule.
The problem for Weis is that while he's an excellent offensive game planner he's also a seemingly nice guy. And it's the latter which hurts him in the highly competitive game of CFB recruiting. Cutthroat criminals like Nick Saban, Bobby Petrino and Steve Spurrier couldn't hack it in the egalitarian environment of the NFL, but give them an opportunity to use any means possible to tip the table in their favor, ethics be damned, and suddenly their the Cat's Ass as my Grandma used to say. Chunky Charlie didn't seem willing to play that game at Notre Dame and if you can't draw blue-chippers to a school that has it's own Network TV contract then working in a state which when driven thru could literally suck the soul out of your body isn't gonna help.
Kansas put up only 339 yds. of offense in Lawrence against the porous Rice D and now goes into a stretch in which they play 5 Top 25 teams in 6 weeks. Meanwhile the shady likes of "Love 'Em Leave 'Em" Todd Graham at Arizona State and Rich Rodriguez, a coach who leaves NCAA investigations in his wake like Matthew Perry leaves bad sitcoms, at Arizona are 4-0 combined at their new schools including an upset of #18 Oklahoma State by the Wildcats late last night.
Not yet the U.of Arizona football unis, but give RichRod time...
As former 1970s disgraced Clemson basketball coach Tates Locke said, "I realized the game was either cheat or lose...and I just got tired of losin'" I'm sure somethin' will open up in the pros in 3 years Charlie...
--UNIFORM UPDATE: There once was a time not long ago when CFB uniforms were plain and straightforward. A two color scheme, black shoes and a player's number on the helmet. Or as Keith Jackson put it during the Cold War '70s, "If the Soviet Union had a football team they'd dress like Penn State." But that as Clint Black says, "...was another time and a another place."
The current dress derangement started last year with the Maryland state flag unis that frankly I found extremely disorienting to watch and it has only gotten worse since. The most anticipated debut of 2012 were these Green & Gold, feather shouldered abominations trotted out by the Oregon Ducks that made me feel there was a rent-by-the-hour motel in Portland that was missing a shipment of shower curtains.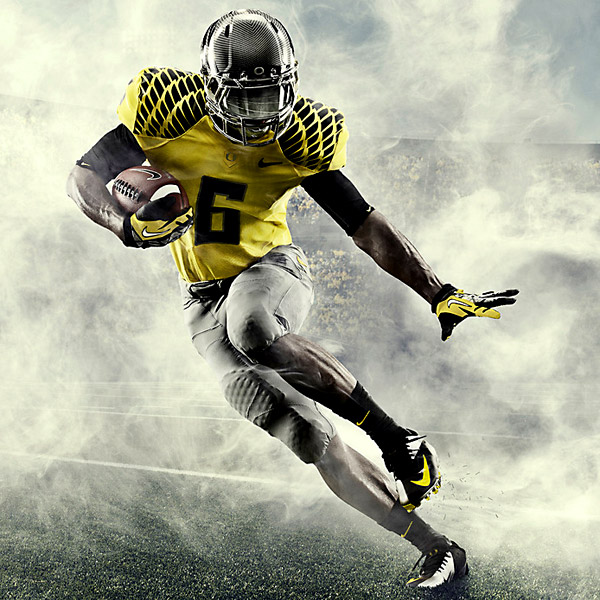 This was followed on Monday night by the honeycomb-ed haute couture of Georgia Tech which had me Google-ing whether Yellow Jackets actually produce honey and made it appear as if the whole team was actually wearing Bubble Wrap.
But special mention should also go to my Alma Mater, Rutgers, that broke out a set of Titanium-plated headgear that had them looking like that Tin-Foil Hatted Dog that is trying to get more "Likes" on FaceBook than Glenn Beck...I never thought I'd quote fitness informercialist Susan Powter on these pages, but somebody please, "Stop The Insanity!"
MLB
--In unexpected news Bobby Valentine was not fired this week when Red Sox owner John Henry and GM Ben Cherington showed up at a series in Seattle, but neither was he given the green light for next season instead falling intothe infamous "We'll Evaluate Everything" limbo. That Valentine's hiring has become an issue so soon is a bit surprising, but that this whole thing would turn ugly at some point was pretty much a given. You see Bobby V. came to the Sox from TV analysis a world filled with ersatz ego-maniacs and licentious liars that could make Jon Lovitz Tommy Flanagan character (yeah, that's the ticket..) look like Parson Weems childhood version of George Washington on Sodium Pentathol.
Ok so maybe I referenced myself into a corner there, but the fact is folks like Matt Millen, Herm Edwards, Mike Milbury and Bobby Valentine weaseled their way into recent jobs not because they did know something, but because they sounded like they knew something.
Like politicians there's no scoreboard behind these talking heads keeping track of their predictions or theories so coming off authoritative is more important in that world than actually being right. And just in case someone is keeping score there's always the hedging of bets as in this winner from Mark Mulder at the All-Star Break, "if Josh Beckett and Jon Lester turn things around the Red Sox will compete for a playoff spot in the second half..." Thanks Nostra-doofus. In this scenario if Boston had turned things around in the second half Mulder could blow his own horn (which if I could I'd never leave the house), but if they don't it's probably because Beckett and Lester didn't pitch lights out and so, technically speaking, he's right again.
Once, however, these clowns are in the dugout, on the sidelines or even in the GM box there is a scoreboard and there's no hedging or hiding from what it reveals. Bobby Valentine was a bad fit for the Red Sox because he went from a world where he just had to make like he knew everything to a world where he had to prove he knew everything overnight. Maybe on a young, rookie-laden squad Bobby's B.S. could've played up for awhile, but the vetrans of Beantown saw him for the know-it-all phony he is. I can't imagine him returning for another year, but if he does it may mean they're tearing the whole thing down in Boston and starting new. A situation that I'm sure will win all those Youkilis shirt wearing diehards over to his side...Lots of luck!
Nice body...but getting at it, frankly, seems like a lotta work...Dear God, I'm old!?!
--Playing the lottery can be fun, but I've always viewed it as a tax on people who are bad in math...which come to think of it may be why you never see Orientals in those news reports of huge jackpot winners...but back to the point, buying a lottery ticket is looking at things in the short term, not the long.
But if lottery players aren't showing any foresight at least they are taking a shot at a life-changing monster payout. The Washington Nationals management, on the other hand, is more like someone filling the bathtub to the rim, getting in and wondering why the water's overflowing. Or at least that's how my I'm viewing this whole Stephen Strasburg Shut Down thing and 5 and a half beers in to this I don't think that's too bad an analogy.
My problem is not that Strasburg was handled with extra care so much as it is that he was handled with such short-sightedness. With the floundering of the Phillies and Marlins early on and the inevitable collapse of the Mets always in sight the Nats knew they had every chance to be a playoff/division contender early on. Yet despite being comfortably esconced in a playoff position for months now they've trotted Strasburg to the hill with all the regimentation of a pre-teen at a Cambodian sneaker factory.
Even with the the IP limit set the Nationals failed to crunch the numbers and see that St. Stephen would barely make it to September let alone the playoffs if they made it. Skipping starts or briefly DL-ing him certainly wouldn't have totally undermined the war effort particularly in the weak NL where with some manipulation Washington could've matched up Strasburg replacement Junkballin' John Lannan against the Cubs, Padres, Triple-A Astros and Mets for most of those starts.
Instead the Nats will likely have to rely on the tandem of Ross Detweiler and Edwin Jackson if/when they make the postseason. The former came into this season with a 6-14 career record and is on the verge of doubling the number of MLB innings he's ever pitched in a single season while the latter has made 7 playoff appearances with a 4.91 ERA, 5 BB/9 and 5 HRs allowed in 22 IP.
It sure would've been nice to have Strasburg, but even without him it appears the Nationals have purchased their ticket for the big MLB Lottery in October and like they say...all it takes is a Detweiler and a Dream!
NFL
--If you drafted Cam Newton in your Fantasy Draft then again I have two words...Kordell Stewart. Alright, that's a bit of a reach as Newton is bigger, stronger and mentally tougher than the man they called Slash nonetheless the similiarities to possibly the biggest non-injury bust in the history of Fantasy Football might be scary.
In 1997 K-Stew was a pass/run threat that, like Newton, seemed to good to be true. That season he threw for 3020 yards, a 21-17 ratio and rushed for 476 yards and 11 TDs. In 2011 C-Newt passed for 4051 yards in the more wide open current NFL, had an identical 21-17 ratio and rushed for 706 yds. and 14 TDs. Stewart finished QB2/Overall6 in Fantasy in '97 while Newton was QB & Overall5 last year.
Some of those numbers are scarily similiar, but it may be another problem that could threaten Newton owners as the Panthers draw a much tougher sked this year. ESPN ranks it 10th overall and they've traded in the defensive challenged NFC North (Detroit, Green Bay, Minnesota all below average defensively) for the tougher NFC East while also dropping the AFC South and the matchups vs. 2-win Indy and 5-win Jacksonville they benefitted from previously.
Of course all this could be offset by potential shootouts vs. the Saints and Falcons plus two games vs. the Bucs. Still football is a game of adjustments and a late game last year and an early one this year may show that teams are taking a new approach to the Cam Newton's of the world. The first game was New England's victory over Denver in the playoffs where Tim Tebow put up 7 fantasy points total and the second is Alabama's dismantling of Michigan in last week's early season Top 25 CFB matchup. In both those games the defenses eschewed their more radical blitz packages for zone coverages and a controlled rush designed to keep Tebow and Denard Robinson in the pocket more than Hetty Green's wallet (http://kentcrockett.blogspot.com/2011/02/being-savers-but-not-misers.html).
Don't worry 'bout T.O. He apparently has his own line of colgne already on the market.
If teams are content to let Newton beat them thru the air the reviews are decidedly mixed on that end. His 4051 yards is impressive, but as we mentioned, in the pass-happy NFL of today it's hardly first round worthy. Plus he topped 250 yards only twice in the second half of the year and fell below 200 yards 3 times. Some of that could be due to fatigue in his 1st NFL season, but the bigger take away is that Newton needs his running game to be what everyone expects him to be this year and if teams start over-compensating for that it may not be bust, but it certainly won't be a bargain for those who plunged too early this year.
--I always use myself as an example that things could be worse. For example when a girlfriend once complained at a bar that she'd been called Baby by a Drunk I countered with the time I was called Drunk by a Baby...though it didn't seem to make her any more thrilled with me.
Still being a Jets fan this year seems about as bad as it can get. Rex Ryan is turning out to be more about promotion than coachin' and bringing in Tim Tebow is kinda like having Jennifer Aniston guest star on your sitcom...they won't give you the bang for the buck you're paying and is he/she really that big a star in the first place?
But the biggest concern, surprisingly, may be the defense which has gone from #1 to 6 to 21 under Rexy. If they can dial it back up maybe a Ground-and-Pound approach could work. Still for all the talk about Revis Island and the secondary it's hard to pick out many stars among the Front Seven and that may be on GM Mike Tannenbaum as much as Ryan. So it seems today's game against offensive-minded Chan Gailey and the Bills will go a long way toward determining the course of this season. It may not point to a winning year, but if it ends in a shootout, win or lose, it could be a bad indicator for what's ahead.
I'm feelin' 7-9 and Santonio Holmes is Suspended Without Pay Week 7, but hey, I could root for the Browns, right...
--Before we finish here's our Divisional picks and WC teams for 2012: Patriots, Ravens, Texans, Broncos...Steelers/Titans...Eagles, Packers, Falcons, 49ers...Seahawks/Lions.
The real reason I'm picking the Titans for the playoffs...
--Fantasy surprises (far outplay their ADP): Ben Roethlisberger, Stevan Ridley, Torrey Smith, DeSean Jackson, Kevin Ogletree (only kidding, he's already supassed his ADP) Aaron Hernandez, Greg Olsen...hey I gotta write somethin'...
And now here's one for being such good sports...